Algeria is one of the beautiful Arab countries, which enjoys different tourist areas from others, as it is characterized by desert tourism, with heights and oases.
Algeria enjoys desert tourism among the Arab countries, which is well worth a visit. The Algerian desert is part of the Sahara Desert in North Central Africa.
The Algerian desert is characterized by many distinctive places that you can visit and enjoy, like the beautiful desert Atlas Mountains, characterized by colourful rocks and fantastic dunes. The following are the areas of desert tourism in Algeria.
M'zab Valley
The M'zab Valley is located 800 kilometres from the north of the Algerian desert. The M'zab Valley has a distinct geographical terrain as it contains a rocky plateau consisting of limestone and a height of 800 meters above sea level.
The UNESCO classified this area as a World Heritage Site, and the plateau has some aspects of traditional life on it and the desert castle cities, which date back to the tenth century AD.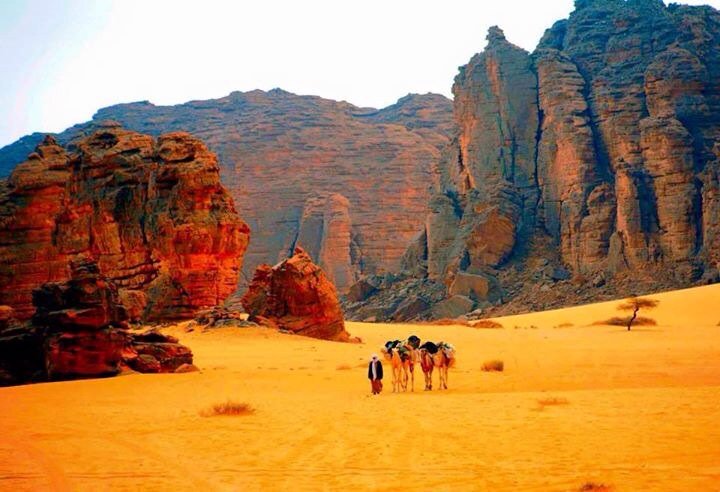 Thales Nagar Mountains
It is a series of mountains located in the southeast of Algeria. It is considered a national reserve and is one of the most beautiful desert tourism areas in Algeria. It is the most visited by tourists than others.
It includes high-rise Rocky Mountains and a group of caves dating back to the prehistoric period. The Tassili Nagar mountain range is located on an area of 72,000 square kilometres. And it was also chosen by UNESCO as a World Heritage site in 1982. It is a place worth visiting.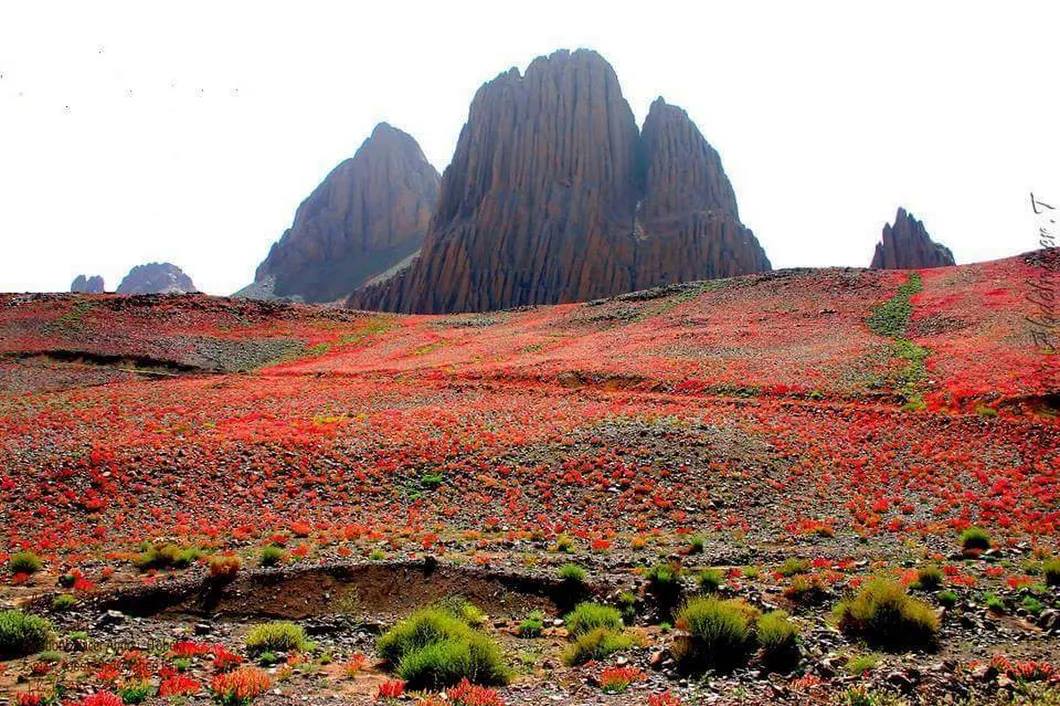 Hoggar Mountains
It is one of the middle-altitude rocky desert areas, where its height reaches about 900 meters. Its peaks are topped by Mount Tahat, which rises to about 2,908 meters above sea level, and the Hoggar Mountains consist of a group of magnificent metamorphic rocks. You can practice mountaineering in this area. It is worth noting that these mountains are about two billion years old.
The town of Timimoun
It is a town built in a desert oasis bearing the name Timimoun, located in Adrar. And this town is characterized by buildings built from dirt and red mud, and there is a crimson gate, and it contains some palaces built of red earth, and there is a salty sabkha lake and a plateau Tadmate, which is located in the southeast of the town.
And you can visit Timimoun town in the winter, as it has a beautiful view during this season compared to the other seasons of the year.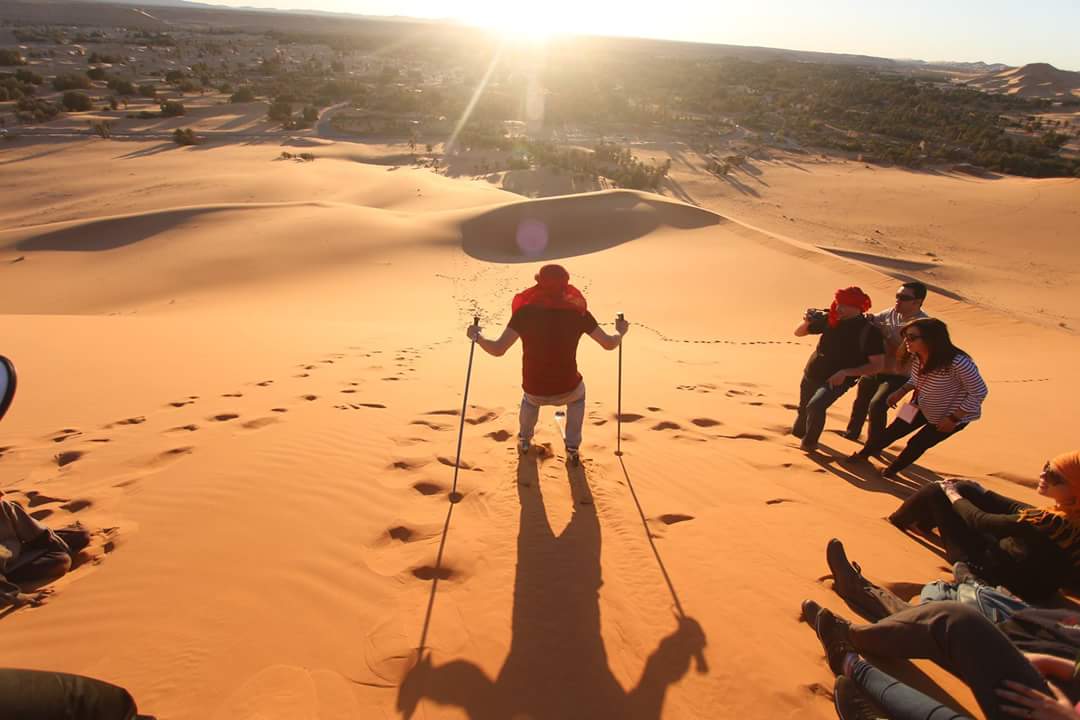 Taghit
One of the most fantastic desert tourism areas in Algeria is the beauty and diversity of nature. It contains more than one hundred thousand palm trees that produce the best types of dates. Ancient and primitive, as these inscriptions date back to more than 10 thousand years BC.
Oasis of Bani Abbas
It is one of the oases located in Algeria in Bechar, which includes the desert palaces of individual beauty. They are called the Saoura and are distinguished by many historical monuments, including Priest Charles Foucault's hermitage and a museum of plant and animal wealth and some rock carvings.
The Bani Al-Abbas Oasis includes some mountainous heights, including Hamoucheh and Hadab Baba Haida. On the western side of the Bani Al-Abbas Oasis, you can see the Atlas desert mountains extending.
Arak mountain range
It is a series of mountains located in the Algerian state of Tamanrasset, and it surrounds a dry valley. And the top of the hill may reach 500 meters, characterized by a dry climate with some types of plants and animals.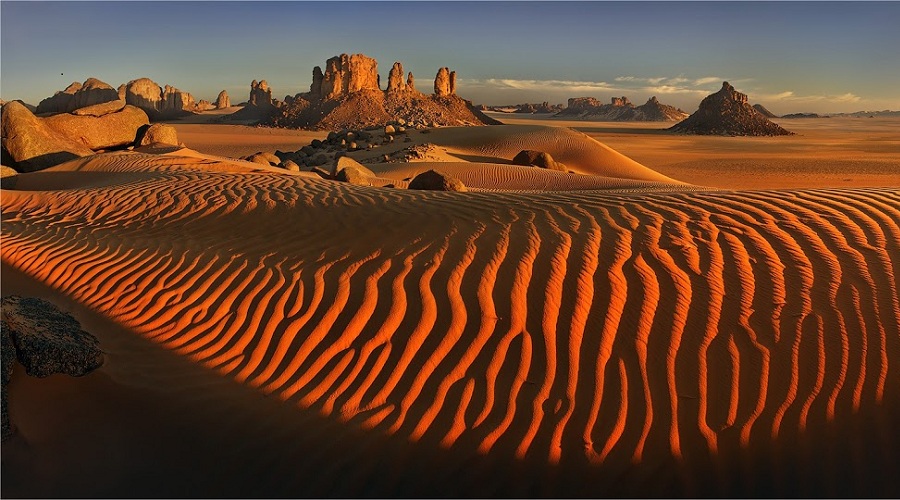 Timimoun
Timimoun is one of the most recommended areas to visit during the winter period, especially if you are looking for peace. Algerians call it "the bride of the desert," it is located in Adrar, and it is characterized by a unique architectural character and stunning natural scenes. Tourists make a pilgrimage to it to enjoy the yellowness of the universe when the sun fades between dunes at sunset. Timimoun has more than 40 palaces. The palace has another meaning in it, as it refers to the community built on mountain peaks below the caves. Timimoun is also famous for its embrace of the Dabbagh zawiya, which is considered one of Algeria's most important historical sites, a military barrack during the French colonial days into a religious corner after independence.
Tassili
Tassili, a mountain range located in Algeria's southeast, is more than 2000 meters above the ground. It has distinct mountain peaks, and its highest peak is "Adrar Afua," which rises more than 2185 meters from the surface of the earth. Tassili is unique for its paintings engraved on rocks, which date back to about 10 thousand years, and the Tassili Mountains contain drawings that strike deep in history, as their age was determined in some areas to 30 thousand years.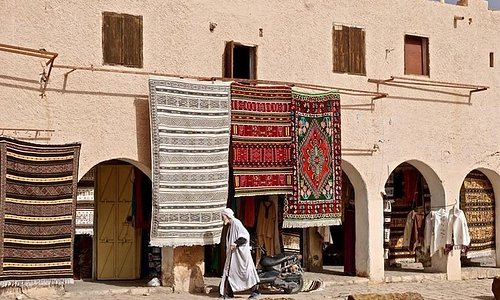 Ain Saleh
Ain Salah is an oasis located in the heart of Algeria's picturesque tourist desert, and it was once an important commercial link to the caravan route. Moving dunes cut the town in half, and its back parts include four ancient red-brick mansions, each with its castle.