Dutch cuisine is not as well-known as other international kitchens, such as Chinese, French and English. But this does not prevent the fact that Dutch cuisine contains many foods, appetizers and sweets that are unparalleled in the world. We are lucky to have had the opportunity to travel to the Netherlands and experience many of them. Here are some of the most popular dishes in the Netherlands: and the ten best Dutch food.
Hollandse Nieuwe:
Dutch herring is one of the most famous popular foods in the Netherlands, so you should try it once if you like seafood. Usually, herring is served as raw onions and cucumbers, but this does not prevent you from enjoying it in small pieces or on a bread sandwich. According to calculations, since the fishing season, one of the best times to eat herring in the Netherlands is between May and July because the best types of kunafa fish have ripened well, according to calculations. Herring is not only a restaurant meal, but you will found it in shops, markets, and even on the streets, especially in its best season.
Stroop waffle:
It is one of the most popular foods in the Netherlands and snacks, especially for travellers. Waffles are undoubtedly the most famous dessert in the Netherlands, and they are a unique type of dessert with a distinctive taste and texture that has no rival. The waffle candy consists of a mixture of dough, and it is baked in an electric machine that gives it the shape of small squares on both sides, and it becomes thin and crisp. The waffle is served in two thin layers, and between them is a thick, sticky, sweet syrup with different flavours, to be chosen according to your preference. You may find waffles as a wrapped dessert in the Netherlands market, but it is best to eat them in bakeries and desserts that make them upon request and serve them hot. Some people prefer to have a hot drink such as tea or coffee in a coffee shop.
Krolet meat:
The Netherlands is famous for its croquettes, which is meat wrapped in breadcrumbs as one of the world's best snacks. The original Dutch croquette is made from beef, but now some restaurants make it with chicken or shrimp. Meat can be substituted with vegetables and grains to make croquettes for vegetarians. You can get croquettes from all restaurants in the Netherlands, and even on public streets, there are special carts for serving. The croquette is the first meal for employees and students in the Netherlands, and it is also the first companion for tourists on the hike. Some restaurants serve croquettes as an appetizer with food, especially fast-food restaurants.
Erwin Soup:
Pea soup is one of the most popular dishes in the Netherlands, and it is very popular as the best type of soup, which is a popular dish in the Netherlands. Pea soup consists of peas, celery and carrots, plus bacon. Some people prefer to add slices of sausage, smoked meat, and slices of bread to the soup, to make it a complete meal. Weight-loss dieters are replacing bacon with grilled pork chops in a soup to suit them. It is possible to dispense with adding meat in the soup, to make it a proper meal for vegetarians. Some restaurants make pea soup from lamb or beef to serve it to Muslim tourists in the Netherlands.
Olie bollen:
One of the most popular foods in the Netherlands
Fried balls are a traditional Dutch dessert and one of the most famous desserts in the Netherlands, and they taste similar to donuts. These fried balls are made of flour, milk, eggs, yeast and baking powder, in addition to raisins. These deep-fried desserts are cooked in abundant oil and only take minutes to soften. Fried balls are served with powdered sugar, and some prefer them with caramel sauce or chocolate sauce. The fried ball candy is the official winter dessert, and it's usually served every year on New Year's Eve. You may find fried balls in restaurants and even cafes, in addition to being sold on the streets, especially in picnic areas.
Stamppot:
Potato salad is one of the old dishes and popular dishes famous in the Netherlands, which is still popular today. Potato salad consists of mashed potatoes with vegetables such as turnip, carrots, and sauerkraut. Restaurants usually serve potato salad with Dutch sausage as a meal due to the distinctive taste that results from eating them together. Although potato salad is on the starters list in restaurants, it is still consumed as a hot meal at home. There are many trolleys on the street serving hot potato salad, especially in winter. Potato salad is one of the favourite meals for vegetarians and dieters.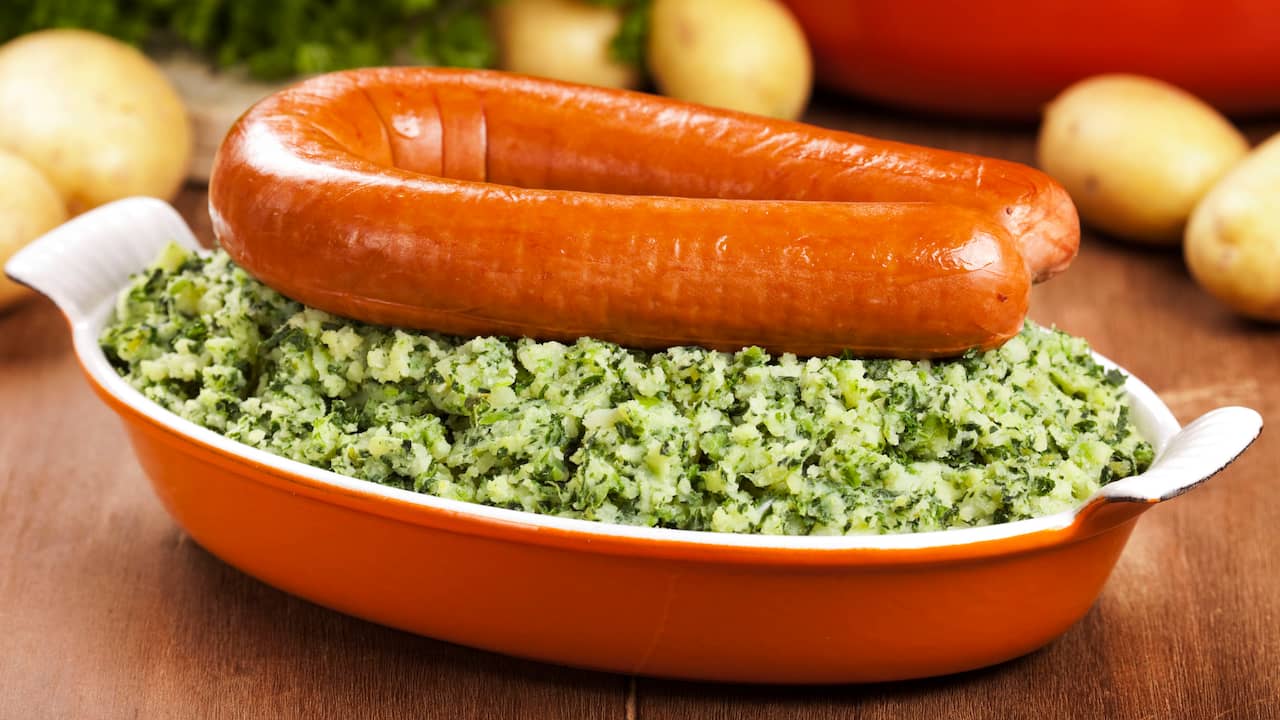 Rook Worst:
Smoked Dutch sausage is one of the best popular foods in the Netherlands, and it is also one of the best Sausages in the world. Smoked Dutch sausage is usually served with potato salad in most restaurants, as most locals are used to eating it. Some people prefer eating Dutch sausage with rice or pasta as the main dish. Some restaurants, especially fast-food restaurants, offer a Dutch sausage sandwich with mustard sauce and French fries and soft drinks. You may also find Dutch smoked sausage sold on the streets the same way as Dutch cabbage is cooked.
Bitter Ballen:
Meatballs are one of the best snacks in the Netherlands, and they are popular with both citizens and tourists. Meatballs are made of a ball of ground meat mixed with butter and surrounded by dry bread crumbs. The meatballs are cooked by heart in oil until golden in colour and served crunchy with mustard sauce. Some restaurants add chopped hot pepper to the minced meat to give it a spicy taste for those who prefer spicy foods. Some people like to replace ground meat with groundfish, but this is not available in all restaurants. You can have meatballs as a snack with crackers and drinks, as offered by some cafes in the Netherlands.
Lekkerbekje:
The fried fish fillet is one of the best and cheapest seafood in the Netherlands, and it is one of the most popular foods in the Netherlands. The fried fish fillets are cooked from the Dutch sea fish, where the thorns and skin are removed from it and thinly sliced. Marinate the fish slices with garlic sauce with lemon, cover the outside with dry bread crumbs, and serve fried. Fried fish fillets are usually eaten with french fries and mayonnaise.
Pannenkoeken:
Despite the pancakes spread in most parts of the world, it differs in the Netherlands from others regarding the size and thickness of pancakes. In the Netherlands, pancakes are eaten at any meal during the day, not only at breakfast, like in other countries. Pancakes are not just sweet; they range from as sweet as apple pie and raisins to savoury meat pie and cheese. Sweet pancakes are usually eaten with powdered sugar or sweet syrup.